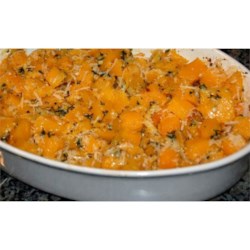 This recipe is absolutely divine!  One day after I made it I was already on my way back to the store to get the ingredients again.
INGREDIENTS
2 tablespoons minced fresh parsley
2 tablespoons olive oil
2 garlic cloves, minced
1 teaspoon salt
1/2 teaspoon pepper
3 1/2 pounds butternut squash, peeled and cut into 1-inch cubes
1/3 cup grated Parmesan cheese
DIRECTIONS
In a large bowl, combine the parsley, oil, garlic, salt and pepper. Add squash and toss to coat.
Transfer to an ungreased shallow 2-qt. baking dish. Bake, uncovered, at 400 degrees F for 50-55 minutes or until squash is just tender.